I found this review from Splitter Choss of the Metolius Trad Harness I used for a year vey much to the point. I love the
double loop on big routes in the Dolomites where I have put quite some milage in to my Trad harness. Only thing I like to add is that its even comfy to sleep in and thats rare for a harness!



Metolius Safe Tech Comp & Trad Harness Review
As the new crop of modern harnesses began to emerge, there was one player who's absence was obvious. Where was Metolius, and when were they going to offer up something comparable for those who love the Safe Tech features, but desired something more modern, including speed buckles?
The answer came in spring of 2012, when they stepped into the game with two offerings, a sport and a trad model. We've tested both over the past year, and they're everything you've come to expect from Metolius, with a modern twist.
So what was the hold up? In typical Metolius fashion, they weren't happy putting out a speed buckle until they knew it would be the safest of its kind, and could actually "lock" in place. In fact, in testing other harnesses during their R&D process, they actually found that in weird fall situations, such as sideways or completely upside down loading, some harnesses currently on the market were failing, some with the webbing cleaving in two, some that slipped under relatively low loads. (The current CE/UIAA dummy test is in the upright position only, though they are looking into changing these requirements). The end result is a speed buckle that locks in place, and will stay put no matter how you come flying off the wall. It's not as smooth to cinch down as other models, but the learning curve is minimal, and there's no question it's safer.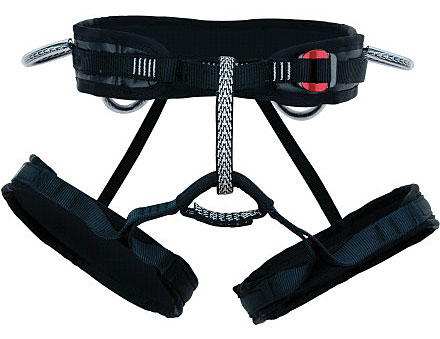 The
Comp (sport) harness
is sleek, with four gear loops that can hold plenty of draws for your next sick projjy proj. The waist belt is slim but comfortable enough that when you are dogging up the wall, you can hang for hours figuring out how to get from one hold to the next, assuming your belayer doesn't tie you off and head off with other friends. It weighs 13 oz and retails for $89.
The
Trad harness
is fully featured, with dual belay loops, four big gear loops, and adjustable rise/leg loops, which means you can dial in the perfect fit for your body type. Tracy has been testing this one and she grabs it without fail whenever we aren't going to clip bolts (and sometimes even then too.) The comfort level is high, and she's found the dual belay loops quite useful when descending multipitch routes, as you can use one to tether into the anchor, and the other for managing your rap device. The Trad weights 16.5 oz and retails for $99.
In climbing, it's easy to be complacent about safety, especially when you've been doing it for a long time, but make one mistake and you can die from it. Metolius has always had our respect for fully acknowledging that and creating products designed to keep us safer out on the rocks, in spite of ourselves. Some have shied away from their products, claiming them to be overbuilt, but if you are looking for an excellent harness that combines comfort, functionality and best-in-class safety, it's hard to beat the Safe Tech Comp and Trad.